Frayed Electrical Wires – How to Avoid Them & Risk of Fire Damage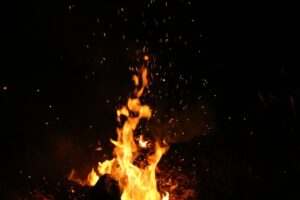 Home electrical fires are one of the most common types of fires that you will witness each year. In the best-case scenario, frayed electrical wires can lead you to a minor shock which you quickly recover from. In other cases, exposed wires can transform into massive electrical fires.  These fires can cause you a fair bit of annoyance and distress.
Thus, you need to ensure that you're constantly checking whether your house is safe from all potential dangers. The key to ensuring that your house is safe from electrical fires is constant maintenance of the house. You constantly inspect electrical boxes and connections so you can ensure that you've got everything up to par. The easiest way to prevent fire damage is to first protect your house from it.
In the article below, we're going to tell you how frayed electric wires may cause fires and what you should do to avoid them.
How to Avoid Frayed Electrical Wires
The most significant thing you must look for is that the appliance you're using should not have a frayed electrical wire. Frayed electrical wires which are easily identifiable are present in appliances that you use on the regular. Thus, the first step to avoiding frayed electrical wires is being aware of the ones present all around you. We have listed some ways for you to avoid frayed electrical wires.
1. Armor Cords with Tubing
Frayed electrical wires could be a result of your pet getting their teeth into your cables. However, there are ways you can prevent this. One of the ways is by getting a roll of clear vinyl tubing and slipping it onto vulnerable cables.  To slip the tubing on, you will have to make an incision and place it on the cords.
2.  Wrap Cords in Spiral Wrap
If you think it would be too difficult for you to cut tubing, you can purchase a product called spiral wrap. The spiral wrap will help you sheathe the cords. The great thing about this spiral wrap is that you can wrap multiple cords together, so you don't have to look out for much.
3. Use Heat Shrink Tubing to Encase Cords
Another way to protect your frayed electrical wires is by using heat shrink tubing. You can continue this method by taking a tube, fitting it over your cord, applying heat to it using a blow dryer so it can shrink around the cables. The connection point is the most important place where the wires tend to fray. Thus, placing a heat shrink tubing will protect all the places where the wire is not exposed. This tubing also doesn't conduct electricity or heat. Thus, the idea of fires dies down.
4. Use Springs from Pens
You may not want to invest in any of the tubings, or it may just not be convenient for you to go to the store. In this case, if you need a temporary solution, you can pull out the spring from a ballpoint pen and attach it to the electrical cords.
5. Use Electrical Tape
Chances are you have electrical tape lying around in your toolbox. Even if you don't, you can always apply a simpler and cheaper fix to your frayed cord. It's a simple fix, and you don't have to wait for anyone to make any fixes for you.
How do Frayed Wires Lead to Fires?
Outdated electrical wiring often causes electrical wires. If you're not sure how old the electrical wiring in your home is, you may want to get it checked by an electrician.  Old electrical wiring is also likelier to fray at its edges. The frayed wires are more prone to sparking, and these fires can result in these wires with relative ease. Older wiring also tends to heat up quickly and catch on fire.
Old appliances with frayed cords or loose faulty can also catch fire.  Moreover, there is high flammability of old insulation used in these appliances; a simple electrical repair may not be the best way to proceed. Instead, you may want to replace the appliances altogether.
A frayed cord can lead to heat on combustible surfaces, which is why they're not the best when it comes to fire safety. To avoid fires, you should protect all your frayed wires.
Fire Safety Tips
There are ways in which you can still protect your home from electrical fires. We have listed some of these ways below:
Repair or replace loose outlets as soon as you can. These hanging outlets can conduct fire and lead to severe damage. You can tighten the screws holding the slot in place.
Every year or six months, you should get an electrician to check up on your wiring and electrical cables.
Install good-quality smoke detector alarms and fire extinguishers so you can survive any fire. Smoke detectors are imperative in you minimizing your damage.
You should use heavy-duty extension cords for every application. You can also lay the cord out in a way so no one will step on it. Don't run wires under rugs as they can conduct heat and cause fires.
For more information on frayed electrical wires and ways to prevent fire damage, visit us at www.911restorationofmiddletennessee.com.