Fire Damage Restoration in Middle Tennessee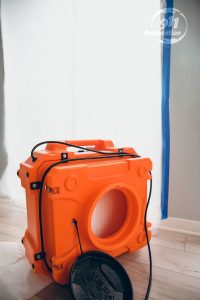 There's nothing scarier for a property owner to experience than fire and smoke damage. You could lose everything and have to rebuild from scratch. But, when you partner with the right fire cleanup company, they can make your property feel like your own again.
If your property needs puffback cleanup or fire damage restoration in Middle Tennessee, you can have faith in 911 Restoration of Middle Tennessee. Our staff of highly trained fire cleanup and smoke removal specialists is ready to provide the disaster restoration and water damage services you need to experience a Fresh Start.
We deliver fire damage restoration services to businesses and homes in Nashville, Murfreesboro, and Antioch 24/7/365 with a promised arrival time of 45 minutes or less. You can count on 911 Restoration to provide everything you need to properly recover from fire and smoke damage. That includes smoke removal, odor removal, structural repairs, and even water removal for firehose flooding.
Throughout your smoke restoration, our IICRC-certified staff offers honest answers and transparent communication. We understand that a fire can leave your mind reeling, so we ensure you know next steps and what choices are right for you and your property. 
We offer free, no-obligation services to make you feel empowered in your decision-making. Our free fire damage assessment clarifies what services you need to have a Fresh Start. Afterwards, our staff walks you through a free insurance consultation to outline exactly what your provider will cover for smoke removal and fire damage restoration.
We don't just rely on information to give you peace of mind. You also need to know that you're in good hands. That's why our crew takes care of your emotional needs throughout your fire remediation. 911 Restoration of Middle Tennessee is IICRC certified, licensed, insured, and bonded. We're locally owned, operated, and backed by the education and resources of a nationwide company. 
More than anything, we're your neighbor. We're on your side and we want you to get back to serving our community as fast as possible. For fire restoration in Middle Tennessee, call 911 Restoration.
Full-Service Fire Cleanup in Middle Tennessee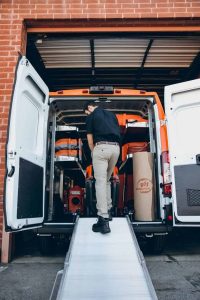 Fire and puffback cleanup goes beyond basic smoke removal. We understand your property is your livelihood. We honor that commitment by leaving you with a home or business that's as clean and fresh as the day you moved in. 
When you turn to 911 Restoration, you never have to call another contractor. Our staff of fire and smoke restoration experts does it all. First, your personal smoke removal crew packs out any unharmed items and stores them to prevent any further damage. From there, they begin the process of smoke and odor removal, including sodablasting surfaces and cleaning furniture and dishes. They inspect your property for any damages and come equipped to repair anything.
If you've experienced a property fire, it's likely you incurred some water damage as well. The fire department does a great job of extinguishing the flames, but leaves you with a flooded property. Don't panic—our fire restoration contractors are also skilled in water damage restoration.
They remove water from your home or business, dry the area, and even perform a  mold inspection.
When it comes to restoring your home or business from fire and smoke damage, we leave no stone unturned. We know it may seem hopeless, but your property is not lost forever. Call 911 Restoration for fire cleanup in Nashville, Murfreesboro, and Antioch.
How Much Does Fire Damage Restoration Cost?
When most property owners experience fire and smoke damage, one of their first thoughts is this:
How much is this going to cost me?
While we can't answer that question without first performing a fire damage assessment, we promise to give you clear answers as soon as possible and with no obligation.
Once an assessment is performed and the path forward is clear, a staff member sits with you for a free insurance consultation. They explain exactly which fire cleanup and smoke restoration services your provider covers. You know exactly what to expect in terms of coverage and what expenses will fall to you.
Then, to ensure you get every penny you're entitled to, one of our IICRC-certified experts assists with your insurance paperwork. They even work through inventory and loss itemization with you so you have one less problem to worry about. Plus, they file your claim for you and bill your provider directly, so that you don't have to think about those costs ever again. This is a stressful time. We won't make it any worse for you. Call 911 Restoration locations today for fire cleanup, smoke damage, puffback cleanup, and soot cleanup today.