Mold Removal in Middle Tennessee
If you suspect you may have a mold infestation on your property, you need to contact a mold cleanup company right away. 
If mold is left to thrive without the proper mold removal services, the effects on your property and your health can be devastating. Fortunately, 911 Restoration of Middle Tennessee is always in your corner with water damage restoration and mold remediation services.
Expert Mold Remediation Services
We provide expert mold removal services in Nashville, Murfreesboro, and Antioch 24/7/365 with a guaranteed arrival time of 45 minutes or less. Our IICRC Certified Staff is professionally trained to handle mold remediation safely and effectively. Each worker on our crew is prepared to fully restore your home or business following an infestation. They even sanitize and repair contaminated surfaces and dry structures to prevent recurring growth so you can enjoy a Fresh Start. 
911 Restoration of Middle Tennessee is a locally owned and operated business. We prioritize your health and safety in everything that we do, and our mold remediation specialists in Middle Tennessee treat your property as if it were their own. You can always expect compassion, transparency, and honest communication from our mold cleanup crew.
You can have peace of mind knowing that we are licensed, insured, and bonded. We stand behind the respected name of a nationwide company and hold our technicians to the highest standards of service. Plus, we're dedicated to keeping costs low while fulfilling your expectations. 
Above all, our mission is to give you and your property a Fresh Start. 
Don't let mold removal wait until you have a full blown infestation. Call 911 Restoration today for mold remediation services in Nashville, Murfreesboro, and Antioch.
Your Middle Tennessee Certified Mold Remediation Company
Basement mold is a common problem in Middle Tennessee. Between heavy rains, a flooded basement, or experiencing a frozen pipe burst, it's likely your property has seen water damage at one time or another. If water damage restoration for that emergency didn't include a mold inspection, your property can have hidden mold growth you don't know about. We strongly encourage a professional mold inspection.
Mold flourishes in dark, damp spaces like your basement after flooding because concrete absorbs and stores water. Over time, that moisture rises to the surface and creates a welcome space for mold spores to develop. Don't be tricked into a false sense of safety just because you have carpet or floorboards in your basement. You could have a hidden infestation underneath them and not even know it!
Once a colony of mold growth establishes itself in a water damaged space, its airborne spores travel to other areas of your property and create new infestations. 
Mold Remediation Process
In 2004, the Institute of Medicine found there was sufficient evidence to link indoor mold exposure with upper respiratory tract symptoms in otherwise healthy people. To protect the health of yourself and your property, always get a mold inspection after water damage restoration.
Our mold remediation specialists are expertly trained in water damage restoration. They know which materials are most likely to store moisture and they never skip any steps. This means they know how and where to search for mold on your property.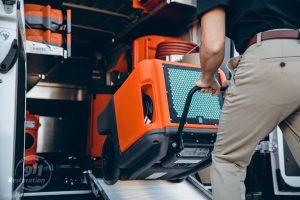 After performing a mold inspection and they're confident they've found every infestation, they bring in professional tools for mold decontamination. This is no at-home mold removal technique. They draw on their extensive training to ensure a safe and through removal of mold. 
Once they're certain every growth is gone, our mold cleanup crew uses professional fans to dehumidify the structure. Finally, they repair or replace any contaminated materials in your home or business. After our mold removal services, you can enjoy a mold-free, stain-free, odor-free environment. 
Your property is your livelihood. Don't let it turn into something that harms your health. Call 911 Restoration for mold decontamination in Middle Tennessee today. 
Reliable Mold Removal in Middle Tennessee You Can Count On
Did you know that the entire function of mold is to break down organic material? When it grows on your property, fungus devours wooden structures, wallpaper, and even glue!
Most varieties of mold are either allergenic, pathogenic, or toxigenic. What this means is the fungus releases particles that are extremely harmful to your health when inhaled. Don't be fooled into thinking you'll know when you're inhaling mold spores. This is why you need a professional mold inspection if you notice unexplained changes to your health, including dizziness, headaches, or an increase in allergies. 
Don't count on at-home mold removal. Call a certified mold remediation company that is equipped to clean away mold without spreading spores and mycotoxins. Plus, they know how to take additional measure to prevent a repeat infestation.
Mold decontamination may seem like an unnecessary expense. But the plain truth is, the sooner you bring in a professional, the more money you save in the long run. Call 911 Restoration locations today for a Fresh Start.
Serving the communities of Antioch, Brentwood, Clarksville, Franklin, Goodlettsville, Hendersonville, La Vergne, Lebanon, Murfreesboro, Smyrna and surrounding areas.