Sanitization Services in Middle Tennessee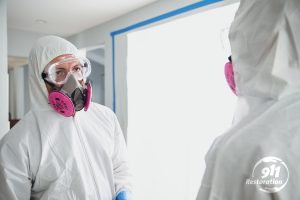 The coronavirus has changed a lot of things in a short amount of time. One of those things is how business owners maintain the cleanliness of their property to protect their staff and customers. Regulations may change, but the dangers of the virus do not. While we don't need to live in a constant state of fear, we do need to take responsibility for sanitization, cleanliness, and social distancing.
If you're a property owner, you probably feel the burden of sanitization and deep cleaning. However, there are several things you can do to provide peace of mind for your family and your staff.
First, it's important to stay informed by turning to reputable authorities like the Centers for Disease Control for regular updates. The CDC also has updated guidelines for sanitization and disinfection. New information about COVID-19 is being released daily, and while the right information helps you maintain a healthy environment, the wrong information can lead to dangerous decision making.
Second, be aware that the coronavirus is especially dangerous for seniors and immunocompromised individuals. If you own a commercial property, be aware that you don't know the risk factor for each individual entering your space. Even if an employee or customer appears young and healthy, they could have an underlying medical condition you know nothing about. They could also live with or care for a high-risk individual. This is why sanitization and deep cleaning are so important.
Follow Best Sanitization Practices for Coronavirus
Individuals can spread the coronavirus even if they don't show symptoms. You should always be cautious of who enters your space. Insist on the use of face masks for patrons and staff and provide the appropriate PPE for your industry. 
Above all, you must establish a regular sanitization routine. Your staff and customers look to you for reassurance that returning to work or visiting your business is a low-risk decision. You owe it to them to disinfect your space frequently. 
911 Restoration is here to help. We provide sanitization services and disinfection solutions in Nashville, Murfreesboro, and the surrounding areas. Our IICRC-certified technicians serve both residential and business properties. They provide office deep cleaning, retail sanitization, and disinfection for all homes and businesses, regardless of size or type. While we can't guarantee the disinfection of COVID-19 from your property, we do follow CDC and EPA protocol, so you can be confident in the quality of our service. 
If you need disinfection solutions and sanitization services in Middle Tennessee, call 911 Restoration locations today.