Sewage Backup Cleanup in Middle Tennessee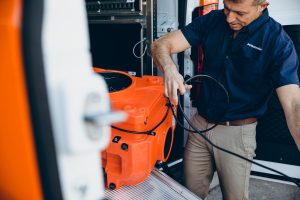 Few things make your property feel as gross and contaminated as sewage water backup. Sewage water damage is a nightmare for any property owner. No matter what type of property you own or what time disaster strikes, you have a partner in 911 Restoration of Middle Tennessee.
We provide sewage cleanup services 24/7/365, and we don't waste a single minute when it comes to restoring your property. Our sewage restoration staff arrive within 45 minutes or less, so that you can have peace of mind knowing that your property is on it's way to a Fresh Start.
Full Service Restoration
Sewage cleanup in Middle Tennessee goes beyond water removal when you partner with 911 Restoration. We provide water damage restoration and mold removal services to cover all of our bases. Our water damage restoration technicians dry, sanitize, and repair your property. As a certified mold remediation company, we can handle mold remediation as needed and leave you with a home or business as clean and fresh as the day you moved in. 
We serve both residential and commercial restoration with comprehensive sewer backup in Nashville, Murfreesboro, and Antioch. Our sewage cleanup team is IICRC–certified and trained to provide the service you need for a Fresh Start. 911 Restoration is licensed, insured, bonded, and locally owned and operated. 
Our goal isn't just to provide the best sewage backup services, it's to lead with compassion. We understand better than anyone that sewage backup is a disgusting invasion on your property. You work hard to maintain it, so our water removal crew treats your property as if it were their own. When you call us for help, we don't waste a single moment. We offer a free visual inspection (for property owners only) and a free insurance consultation to make sure you feel informed and empowered throughout the entire sewage cleanup process.
It may not feel like it, but your property can be clean and fresh again. Call 911 Restoration of Middle Tennessee for sewage restoration today.
Your Sewage Backup and Water Cleanup Company in Middle Tennessee
When you discover sewage water damage on your property, there's no time to waste with a water cleanup company that doesn't take quick action to restore your home or business.
 The longer moisture from sewage backup lingers on your property, the more at risk you are for rotting, mold growth, and other damages.
Our sewage cleanup crew is available any time of day or night, every single day of the year. We know these kinds of things happen at the most inconvenient time, so we want you to feel at ease knowing we're here for you when you need us.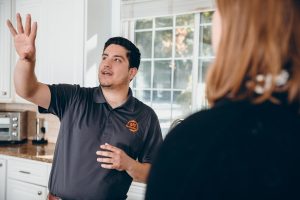 We rush to your property, arriving in 45 minutes or less to pack out and store any at-risk belongings and begin the water removal process. Sewage cleanup is completed as quickly as possible and we even bring professional blowers to dry the affected area. 
911 Restoration is the most compassionate water cleanup company in the Middle Tennessee area. You're an important neighbor in our community, and it's our goal to take care of your emotional needs during your sewage restoration. We care about your health too, and don't want any mold or other dangerous bacteria and viruses forming on your property from toilet water damage. That's why our sewage cleanup team sanitizes your property thoroughly. 
Sewage restoration may seem impossible, but all you need to do is know who to call. 
For sewage backup cleanup in Nashville, Murfreesboro, and Antioch, call 911 Restoration. 
Your Fresh Start After Sewage Water Backup
Sewage water backup has a way of making your property feel tainted and destroyed. Rest assured, our sewage cleanup crew leaves you with a home or business that feels better than ever. 
We take extra steps to ensure all the consequences of sewage backup are completely gone. After sewage water removal, they dry the structure to its core to protect against rotting, weakness, and mold development. From there, your sewage cleanup crew sanitizes the area for your health. 
Because some toilet water can harm the materials of your property even with the quickest response, our team performs a mold inspection. If you require mold removal or any other repairs, our water damage restoration staff handles it all. By the time our IICRC-certified sewage restoration crew is finished with your property, you'll never have guessed you had a sewage backup to begin with! Call us today for the Fresh Start you deserve.
Serving the communities of Antioch, Beechgrove, Bell Buckle, Brentwood, Clarksville, Christiana, Franklin, Gallatin, Goodlettsville, Hendersonville, Hermitage, Joelton, La Vergne, Lascassas, Lebanon, Madison, Manchester, Milton, Mount Juliet, Murfreesboro, Nashville, Old Hickory, Rockvale, Springfield, Smyrna, Wartrace, White House, Whites Creek and surrounding areas.