Water Damage in La Vergne
The water damage La Vergne staff with 911 Restoration of Middle Tennessee have the skills needed to remediate any water damage situation that they come across.
Homeowners living in the Middle Tennessee area know that it is necessary to prepare their homes for the rainy weather , and the water damage La Vergne experts want to be there for you to help make that happen.

The tornadoes, storms and humidity can create water damage in the home that, when left untreated, can lead to structural issues and mold outbreaks.
We know that it is necessary to cleanup water as soon as it soaks the property, so the La Vergne water extraction team is available 24/7/365.

Our teams know how important it is to cater to the emotional wellbeing of his customers, which is why the La Vergne flood damage pros put a huge emphasis on customer service.
With 35 years of experience, the La Vergne water removal techs know how to get you through this tough time. We make sure that you are comfortable with the restoration process by giving an initial free water damage estimate the moment we arrive on the scene.
We never want there to be any hidden fees, and make sure to keep open communication with all of our customers, every step of the way. We want to build high levels of trust with our customers, and by staying available around the clock we hope to do just that.
Learn How to Protect Your Home Against Tornadoes
Along with rain, tornadoes can cause homes to flood, pipes to burst and hoses to leak. In order to keep your property dry during intense weather, the IICRC certified La Vergne flood mitigation specialists have some tips on how to keep your home safe.
Keep your doors sturdy. Install doors that are strong enough to take a hit. Check out doors that are especially made for shelters and safe rooms.

Don't forget about your garage. Garage doors are especially important in a storm situation. Windowless garage doors are the safest bet, especially those that can withstand 50 or more pounds of pressure per square foot.

Reinforce your roof with galvanized-steel hurricane clips. These clips may sound intense, but they will keep your roof from being ripped off during even the most intense storms.

Shutter your windows. Shuttering your windows will keep flying debris from smashing through and getting inside the home. They will also reduce the internal pressure of the home during especially windy situations.
We guarantee to be at your home within 45 minutes of receiving your emergency call, equipped with advanced water removal and drying technology.
We Want To Get Your Home Back to Beautiful

Our entire operation is licensed, bonded and insured in order to keep our customers safe during every water damage restoration job. The La Vergne water damage mitigation specialists always make sure to offer your the lowest price on all their services.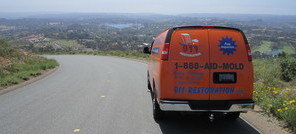 Along with our free water damage estimate, we conduct free visual mold inspections as well, in order to make sure your home is fungus-free.
We then contact your insurance companies and handle all the logistics of filing your claim.
This way the only thing you have to worry about is taking care of yourself and your family, while we handle everything else.
When it comes to water damage restoration, our La Vergne flood mitigation agents are the best in the industry.
Call us when you discover water in your home, and let our water damage La Vergne team with 911 Restoration of Middle Tennessee to give you the fresh start you deserve today!