Water Damage and Mold Removal in Clarksville
Clarksville is an area that attracts tourists and residents alike. With its historical landmarks and proximity to Nashville, it offers something for everyone.
It's also been the target of destructive floods and tornadoes in the last several years. With global warming on the rise, tornadoes, floods, and extreme weather aren't going anywhere. Natural disasters give property owners little time to prepare, but the effects can be devastating. 
If you own property in the Clarksville area, you might find yourself asking such questions as:
Where do you turn for help when there's a flash flood warning? What about after a storm, when your building needs water extraction and structural repairs? Who should you hire when a fire leaves behind smoke and water damage inside your home or business? Where can you find a certified mold remediation company and water clean up service in Clarksville?
At 911 Restoration, we help residential and commercial property owners rebuild after an emergency. In addition to disaster restoration and flood cleanup, we also handle routine repairs. Our IICRC-certified workers are ready for anything, including fire remediation, mold removal, and more. With over 30 years of experience in the restoration business, we've seen it all. We're open 24/7/365, so you can get same-day service, any time. 
When a frozen pipe bursts inside your home or a leak in your commercial property causes mold, give us a call, and we'll have a repairs expert at your door within 45 minutes or less.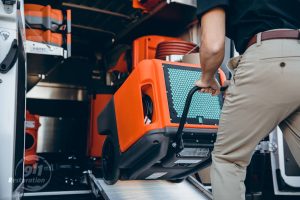 When You Need Water Damage Restoration in Middle Tennessee
Water damages properties in all kinds of ways. Sometimes, it happens slowly, like when a pipe drips into your sink crawlspace. Other times, water takes over a building in an instant, like during a flash flood or sewer backup. 
Both scenarios create difficulties for property owners. When your crawlspace or basement has a damp, musty smell, it means the water has accumulated over time. It means you need structural testing to make sure the building materials under your floors aren't rotten. It means a mold inspection, followed by a safe, effective mold removal.
Flooding, on the other hand, creates additional problems. It means moving and storage to keep your furniture from being ruined. It means containing the water before it can spread to the rest of your property. It means drying and removing damaged items. It means safe removal of hazardous waste.
At 911 Restoration, we handle water removal and flood cleanup, so you don't have to. Whether an unexpected event or routine wear-and-tear damages your property, you can count on our trained staff to take care of restoration, every step of the way. When you need water damage restoration, mold removal, or board-up services in Middle Tennesee, we're the only company you need to call.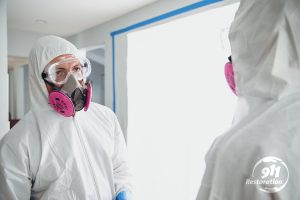 The Lasting Effects of Mold and Smoke Damage
After water damage, mildew causes unpleasant smells and symptoms inside your building. In addition to eating away your property's building materials, it can cause coughing, dizziness, or headaches for residents. 
Smoke damage also leaves a bad, burnt smell that's hard to get rid of. The soot and ash from a fire causes bad air quality inside your home. It stains surfaces and belongings, and it's a nightmare to clean.
If your home or business survives a fire, you have enough to worry about. Let our professionals at 911 Restoration handle your fire damage restoration. We guarantee effective odor removal, whether your problem is mold, smoke, or water damage. Our staff also provides deep cleaning and disinfection solutions for all properties.  When you need to get your property looking and smelling like new again, give us a call.