Sewage Backup Cleanup Nashville
Our sewage backup Nashville team with 911 Restoration Middle Tennessee knows exactly how to get people back on a fresh start when they have experiences raw sewage.
We believe that everyone deserves a second chance. Our business was born of one, and now we have made it our mission to provide to every homeowner in need of one.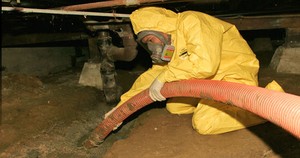 The sewage backup cleanup Nashville team is:
Available 24/7/365
Offers same-day service
Will be there within 45-minutes
IICRC Certified
Always put the customer first
Dedicated to professionalism
High quality work
We strive to be there for you whenever you need us in order to fix existing damage, and prevent future ones like mold growth.
We know that no matter how we prepare for accidents, they still happen. If you experience sewage backup, then call the experts at 911 Restoration Middle Tennessee. We make sure to get you back to fresh status, fast.
If your home or office location is already filling up with black water, then contact our sewage backup cleanup Nashville team with 911 Restoration Middle Tennessee today!
Certified Sewage Cleanup and Sanitation
Sewage backup is classified as a category 3 water damage due to the hazard it is to human health. If you experience it, then we recommend not making contact with the afflicted area.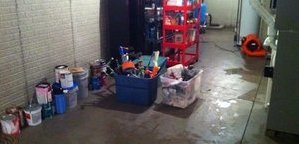 If you can create an impromptu dam that keeps the waste contained into a room, you should. Then call the experts at 911 Restoration.
Our Nashville sewage backup squad will be out to you in a jiffy. You can trust in their ability to clean the mess up in a safe and effective manner because they are IICRC certified.
That means they have taken courses designed to make them proficient in the use of techniques and technologies that will make cleanup affordable.
When we arrive through your threshold no time is wasted. You will receive a free water damage estimate that will explain to you how long the job will take, and how much it will cost. You can trust in our licensed, bonded, and insured team, so you know you are only receiving the best care.
We come with everything we need to get the job done from hazmat suits, vacuums, dryers, and sanitizing chemicals that are safe for humans, but bad news for germs. We just do more than talk about the fresh start, as we actually show it to you in the work that we do.
If you are in need of a second chance then call our sewage backup  Nashville team with 911 Restoration Middle Tennessee, so we can take care of your well being and home today!
How Middle Tennessee Residents Can Avoid Sewage Accidents
Proactive and preventative maintenance makes all the difference when it comes to avoiding accidents. Our sewage backup Nashville technicians have outlined some great tips to preventing a disaster that can really put a dent in your wallet and peace of mind.
The first thing to be mindful of is the condition of your plumbing. Often, homeowners ignore signs of impending backup, so we want you to be part of the fortunate few that make it out with no hassle. If your toilet gurgles, or if the sinks are draining waste slower than they usually do, then it best to go about unclogging them.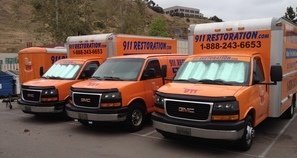 We recommend using a none abrasive method such as using one-part baking soda, and an equal amount of vinegar. This simple trick is something we all have seen before in grade-school science fairs across the country in make-shift volcanoes. Therefore, you know it is perfectly safe.
Put the mixture directly into the drain, and wait for it to fizz out. Once that happens, follow it up with some boiling hot water. Do this as many times as necessary until your pipes are running smoothly.
If you use commercial cleaners like drain-o, then it will eat away at the materials of your pipe, which will cause more water damage down the line.
Another great tip we have is this: do not treat your toilet like a trash can. The only thing that should be flushed down the drain is things the toilet was designed for. Anything else like cotton swabs, facial tissue, or wet wipes will add and form blockages.
If your property is flooded right now, then don't wait another minute to contact our sewage backup cleanup Nashville team with 911 Restoration Middle Tennessee today!