Services
Water Damage Restoration in Middle Tennessee
911 Restoration of Middle Tennessee stands as a reliable ally for homeowners and businesses in the region, offering comprehensive water damage restoration services. In an area often subject to unpredictable weather conditions, water damage is not an uncommon issue. From dealing with flooding after heavy rainstorms to addressing issues of plumbing leaks or burst pipes, the team at 911 Restoration is equipped with the expertise and cutting-edge technology to handle all types of water-related disasters. Their quick response time is commendable, allowing them to mitigate further damages and facilitate a swift return to normalcy.
The trained professionals at 911 Restoration take a holistic approach to water damage restoration. Not only do we focus on removing the water but also emphasize drying, dehumidifying, and sanitizing the affected areas to prevent mold growth and other related complications. Our comprehensive services include water extraction, structural drying, sewage cleanup, mold remediation, and full-scale property restoration.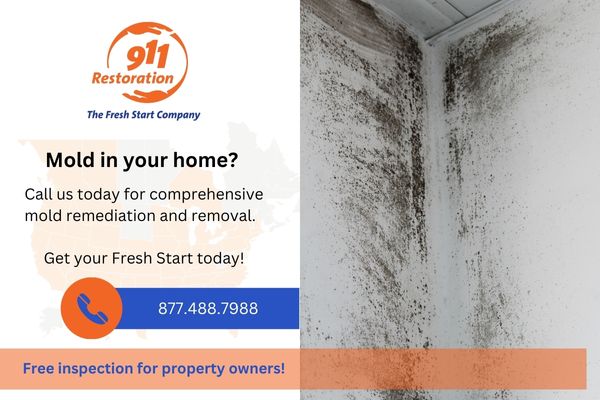 We understand the distress that water damage can cause, which is why they strive to offer an empathetic and efficient service, aiming to turn a negative situation into a "fresh start" for their clients in Middle Tennessee. Their commitment to quality service has made them a trusted name in the industry in the region.
If you've suffered water damage in Christiana, La Vergne, Manchester, Murfreesboro, Smyrna, or any of the surrounding communities, know that relief is only 45 minutes away. Call 911 Restoration of Middle Tennessee today at (615) 208-4505.
Sanitization Services & Disinfection Solutions
911 Restoration of Middle Tennessee offers more than just disaster restoration services; they are committed to promoting healthy and safe environments through their sanitization services and disinfection solutions. Understanding the crucial role of cleanliness in preventing disease transmission, especially in the current global health context, they have positioned themselves as a vital partner for both businesses and homeowners seeking thorough, reliable disinfection services.
The company's robust approach to sanitization and disinfection caters to a variety of needs. From routine cleaning to focused disinfection after a contamination incident, the team at 911 Restoration can manage it all. They offer their expertise to various commercial facilities including offices, retail stores, and restaurants, as well as residential properties. This comprehensive approach to cleanliness, paired with a deep commitment to community health and safety, underscores their dedication to their clients and sets them apart as a leading provider of sanitization services in Middle Tennessee.
Mold Remediation and Removal After Water Damage in Middle Tennessee
In the wake of water damage, the damp environment can often lead to mold growth, which if unchecked, can cause significant structural damage to properties and negatively impact indoor air quality. Mold is also known to trigger health issues such as allergies and respiratory problems. This understanding drives our technicians to provide diligent mold remediation services to protect both properties and the health of their inhabitants in Middle Tennessee.
The team of professionals at 911 Restoration are trained in comprehensive mold removal strategies, covering detection, containment, removal, and preventive measures. Utilizing advanced equipment, they thoroughly inspect properties for signs of mold, even in hidden areas. Following this, they contain the spread, remove the existing mold, and clean the area to eliminate any residual spores. To prevent future occurrences, they also work on addressing the root causes, like humidity control and water leakage issues. Their comprehensive and proactive approach to mold remediation ensures that homes and businesses can rebound quickly from water damage, free from the concerns of mold and its potential harms.
Sewage Backup And Cleanup
911 Restoration of Middle Tennessee is well-equipped to handle even the most challenging aspects of property restoration, including sewage backup and cleanup. Sewage issues, if not handled promptly and professionally, can lead to severe property damage and pose significant health risks due to the bacteria and pathogens involved. 
Their professional team is trained to handle all types of sewage backup scenarios, including toilet overflow, pipe bursts, and septic tank issues, using state-of-the-art equipment and procedures. They not only focus on removing the sewage but also thoroughly sanitize and decontaminate the affected areas to ensure they are safe for reuse. 
The cleanup process also includes drying and dehumidifying the area to prevent mold growth, further securing the property from potential damages. By prioritizing the health and wellbeing of their clients and delivering fast, efficient services, 911 Restoration of Middle Tennessee sets a high standard in handling sewage backup and cleanup scenarios.
Fire And Smoke Damage Restoration
911 Restoration of Middle Tennessee extends its expertise beyond water-related issues and into fire and smoke damage restoration. Fires, while devastating, do not mark the end of a home or business. This company provides thorough restoration services, helping clients recover from the aftermath of a fire incident. From dealing with structural damage to addressing smoke and soot issues, 911 Restoration ensures a smooth transition from disaster to recovery. 
They perform comprehensive services that include soot and smoke removal, structural repairs, odor removal, and water damage restoration, which often follows firefighting efforts. The team also provides assistance with inventory listing and packing out services, a crucial part of dealing with insurance claims. By combining technical expertise with a compassionate approach, 911 Restoration of Middle Tennessee helps alleviate the stress of fire damage, guiding clients towards a fresh start after such a traumatic event.
Certified Fire And Smoke Damage Restoration Services
911 Restoration of Middle Tennessee stands as a beacon of hope for those affected by fire incidents, offering certified fire and smoke damage restoration services. Their IICRC-certified professionals undergo rigorous training to address a multitude of fire-related damages, ensuring they deliver services that meet industry standards. 
From initial fire damage assessment to the final steps of restoration, they utilize advanced technology and apply proven techniques to fully restore properties. Their certification not only underscores their competency but also reflects their commitment to providing the highest quality of service. This level of professionalism and dedication has made 911 Restoration a trusted partner for fire and smoke damage restoration in Middle Tennessee.
Disaster Restoration
911 Restoration of Middle Tennessee is a full-service disaster restoration company, committed to helping communities bounce back after catastrophic events. Their disaster restoration services are comprehensive, covering everything from water damage and fire damage to mold remediation, sewage cleanup, and beyond. Given the unpredictable nature of disasters, they operate a 24/7 emergency response, ensuring that help is available to those in need, at any time of the day or night.
911 Restoration of Middle Tennessee emphasizes a "fresh start" approach to disaster restoration, focusing not only on the immediate cleanup and repairs but also on long-term preventive measures to safeguard the property against future incidents. This dedicated, empathetic, and forward-thinking approach to disaster restoration makes 911 Restoration of Middle Tennessee a reliable partner in times of crisis.
Commercial Property Water Damage Restoration 
911 Restoration of Middle Tennessee offers a vital service to businesses in the region with their commercial property water damage restoration. Understanding the importance of minimizing downtime for businesses, they provide rapid response and efficient services to restore commercial properties affected by water damage. This could be due to various reasons, such as flooding, plumbing issues, or storm damage. Their quick turnaround times not only limit structural damage but also prevent the growth of mold, thus ensuring a safe and healthy environment for both employees and customers.
Their team of professionals, equipped with advanced water extraction, drying, and dehumidifying equipment, works diligently to restore the affected properties to their pre-damage state. Besides immediate restoration, they also offer preventative measures and guidance to business owners to help protect their properties from future water-related incidents. By providing efficient, comprehensive, and empathetic service, 911 Restoration of Middle Tennessee plays a significant role in helping businesses recover from water damage and resume operations with minimal disruption.
Local And Certified Property Damage Restoration Services 
Regardless of the type of property you own or the extent of the damage you've experienced, our IICRC-certified professionals at 911 Restoration of Middle Tennessee are committed to delivering a Fresh Start! Reach out to us today at (615) 208-4505 for comprehensive and compassionate service. As a franchise of 911 Restoration Franchise, Inc., we uphold the company's high standards of service. For more details, please visit our corporate website.
911 Restoration of Middle Tennessee is located at 815 LEXINGTON CIRCLE, MANCHESTER, TN 37355.