Water Damage Restoration in Murfreesboro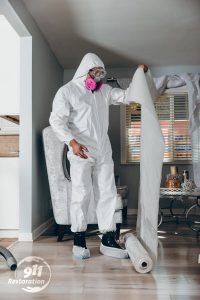 If you own one or more buildings in Murfreesboro, you probably know about the area's Civil War history. With so many older properties in the area, home and business owners in Murfreesboro have to worry about all the issues that go along with them.
Older buildings don't always have great air flow. Their foundations might be weaker than newer facilities. Their basement might have a damp, bad smell. Older properties require more care, which means more time and money the owner has to spend.
If you own property in Murfreesboro, you need a licensed, bonded, and insured company that works fast to handle water damage restoration, mold removal, and more. You need IICRC-certified workers you can trust to get the job done right. You need 911 Restoration of Middle Tennessee.
As a national brand, 911 Restoration has over 30 years of experience with residential and commercial repairs. We're proud to have over 180 branches and counting, all locally owned and operated. When you need flood cleanup after a frozen pipe bursts in your Murfreesboro basement or mold remediation after an appliance leak, we're the only company you need. We put the customer first during a challenging time, and our Middle Tennessee branch is open 24/7/365 to help with your property restoration.
For a free visual inspection (for property owners only), give us a call today.
Need Mold Removal in Middle Tennessee?
Mold is a common problem for older buildings. It likes to hide under floods, inside walls and ceilings, and it thrives off moisture. After a hot, humid summer, consider a mold inspection for your home or business in Murfreesboro. If we find any mildew, we do third-party testing with labs, and we guarantee an effective mold remediation. 
If you're worried about cost, we offer free insurance consultations. At 911 Restoration, we have the resources and knowledge from years in the restoration business. If we find mold or water damage inside your property, we won't just do a full restoration. We'll get your insurance company to help cover the costs. We work with all companies, and we'll even handle your paperwork for you.
Our water damage restoration includes extraction, leak repair, drying and dehumidifying. If you're worried about your furniture or belongings, we'll store them safely for you. We also offer board-up services in the event of a storm or emergency. When you need a certified water clean up service, give us a call.
Fire Damage Cleanup is More than just Smoke Removal
At 911 Restoration, we believe in giving all our customers a Fresh Start. For us, it's not just about fixing your property. It's about helping you, the person, through a difficult time.
A fire is a terrible experience for any property owner. When your home or business has one, trust our fire damage restoration experts for smoke removal, inventory help, and more. We promise to get your home or business better than new, no matter what happens.
When you need a restoration company that puts your first, look no further than 911 Restoration. Call us today.