Water Damage and Mold Removal in La Vergne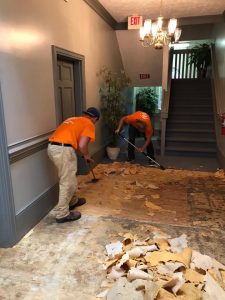 As a home or business owner in the La Vergne area, you've worked hard to get where you are. You've invested plenty of time, money, and effort into your property, and you deserve to see it thrive.
So when faulty plumbing causes a burst pipe inside your property, or an ice dam creates a leak that just won't go away, it's not just frustrating for you. It undoes some of that hard work you put into your property.
You might try to save money by tackling repairs yourself. After all, how hard can it be to fix a leak? If you're a first time property owner, however, you might not be aware that leaks are just the tip of the iceberg. Over time, water causes mold and structural problems inside your building. Unless water damage restoration is done right, you could end up spending even more money to fix more problems down the line.
At 911 Restoration of Middle Tennessee, we know your time and property are valuable. After all, it's not just a house or a building. It's where you started your business; where your family lives. That's why we offer free visual inspection (for property owners only). We don't want you to spend more time or money than you have to. We handle water removal, sewage and flood cleanup, and more for the La Vergne area.
With over 30 years of experience in property restoration, we're one of the top-ranked brands in the country. Here are just a few reasons to choose us for all your repair needs:
24/7 availability, 365 days a year

Same-day service

45 minute response time or less

And more
 When you need residential or commercial restoration that values you, give us a call.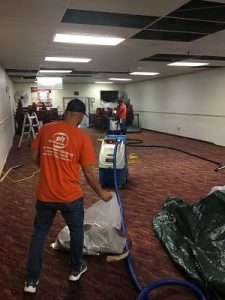 Do You Need Water Damage Restoration in Middle Tennessee?
In La Vergne, summers can get pretty humid. While that might not seem like a big deal, humidity can hurt your property. It gathers inside air conditioners, causing them to leak. In basements, low light and lack of airflow make moisture worse. Before you know it, your home or business has a damp, musty odor. No matter how many times you try to clean, the smell just won't go away. 
The good news is that we handle odor removal in addition to all kinds of water damage restoration. We make sure every one of our workers is trained and certified using the highest industry standards. We pride ourselves on being water damage restoration experts, so you don't have to be.
Are your customers, staff, or family suffering from chronic allergies? You might have mold inside your property. When you need a certified mold remediation expert, look to 911 Restoration of Middle Tennessee. We provide mold inspections and safe removal, so you and your loved ones can breathe easy.
For more information about mold remediation, give us a call.
La Vergne Fire Damage Restoration
No property owner ever deserves to see their hard work go up in flames. When a fire affects your business or home, trust our staff for fire damage restoration as well. In addition to smoke and odor removal, we provide our customers with soot cleanup, structural inspections, and more. We'll make sure your building looks and feels its best, even after the worst happens.
When you need fire remediation, don't hesitate. Call us today and get the help you deserve.