Water Damage and Mold Removal in Franklin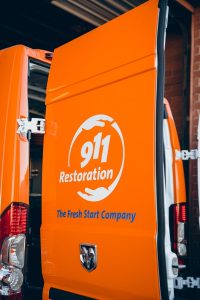 Located close to Nashville, Franklin is consistently listed as one of the top five best places to live in America. Great schools, affordable real estate, and a strong economy are just some of the reasons to take up residence in this area. 
To keep homes and businesses thriving in the Franklin region, property owners need protection from accidents and emergencies. Whether you're looking for commercial restoration or board-up services before a flood, you need a restoration company that won't cost a fortune or give you the run-around.
911 Restoration of Middle Tennessee is one of the top companies for water damage restoration, mold removal, fire remediation, and more. With over 30 years of experience, we pride ourselves on gaining our customer's trust, thanks to fast response times, top-notch service, and more. 
When you need flood cleanup after a frozen pipe bursts inside your home, or mold remediation after a ceiling leak, give us a call and we'll have a trained specialist at your door within 45 minutes. Because we're open 24/7/365, you never have to wait for fast, reliable service.
When you need any kind of property restoration in the Franklin area, give us a call.
Looking for Professional Mold Remediation in Middle Tennessee?
If your home has an ice dam in the winter, you might experience water damage in the spring. Ice dams put pressure on your roof, causing structural damage. When the weather warms and the ice starts to melt, water leaks down into your property. 
Some leaks are hard to detect, especially if it's a small amount of water. Until you find a damp patch of carpet or notice a musty smell in your basement, you might not be aware of water damage. That unpleasant odor means you need mold removal as well.
At 911 Restoration, we provide free visual inspection (for property owners only). If you suspect a leak or mildew, we'll find the source of the water damage, and provide your property with a full remediation. Our services include removing soaked carpets, water extraction, drying, and dehumidifying. We also check your property for structural damage and offer professional deep cleaning and sanitization, as well as mold remediation.
After a disaster, your property has been through a hard time, but that doesn't mean you have to. Call us today.
From Water to Fire Damage Restoration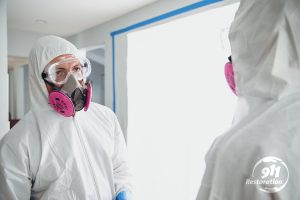 When the worst happens and your home or business has a fire, you need a professional to handle the aftermath. If a fire set off the sprinkler system inside your warehouse, you need commercial restoration. If a fire hose extinguished the flames but soaked your floors and furniture, you need water damage restoration. If your furnace exploded, you need puffback cleanup.
At 911 Restoration, we do all of the above. No matter what your fire damage restoration needs, we'll have a friendly team of experts at your door to provide same-day service.
Need help with your insurance claim after a fire? One of our compassionate agents is here to answer any questions you have. We'll have a knowledgeable staff member handle your paperwork, help you with inventory after a fire, and more.
Give us a call when you need fire or water damage restoration in Middle Tennessee.