Water Damage and Mold Removal in Brentwood
Brentwood is considered one of the most desirable suburban locations in Tennessee. This area offers residents a high quality of life, thanks in part to great schools, a strong business community, and closeness to Nashville. 
Unfortunately, as with any place, there are also downsides to living in Brentwood. As a property owner in this area, you might not be aware that your building is in a flood zone. Flooding does a lot of damage to homes and businesses in a short amount of time.
When your property needs water damage restoration, look no further than our team of professionals at 911 Restoration of Middle Tennessee. We're an established brand with over 30 years of experience, consistently ranked as one of the top restoration companies in the country. When your washer malfunctions, flooding your basement, or a pipe clogs, causing your toilet to overflow, give us a call and we'll have a certified water removal expert at your property in 45 minutes or less.
Does your ceiling have an unsightly stain after a rainstorm? Maybe your basement has a damp, musty smell but you can't figure out where it's coming from. At 911 Restoration, we offer free visual inspection (for property owners only). Our IICRC-certified staff will tell you what the problem is and how to fix it. After an assessment, we provide you with a free budget breakdown. Only after you approve do we get to work on restoration. There's no surprise costs with us. 
We act fast to stop water problems at their source. When you need emergency water cleanup day or night, give us a call.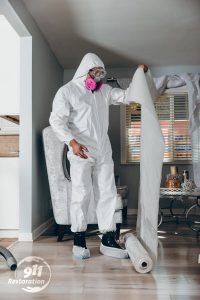 Mold Remediation in Middle Tennessee
Winter weather is hard on buildings of all sizes. Does your home or business have an ice dam? If so, you might need roof repairs, or else you'll face leaks when the weather warms and the snow starts to melt. When's the last time you replaced your furnace? Furnaces with oil heating systems can malfunction, causing puffback inside your property. Puffback is dirty, sticky soot that results after furnace combustion. It's a mess that only gets worse over time. 
Unless your heater works correctly, you could also end up with a frozen pipe. If a pipe bursts, it's hard to contain the flooding. Water seeps quickly into floors, causing structural damage inside your walls. Unless you completely dry your property's foundation, you could end up with a mold infestation. A towel or mop won't get the job done. You need a professional to handle flood cleanup.
That's where our trained crew at 911 Restoration comes in. We contain water quickly, and after a full extraction, we remove wet carpets and replace flooring. Our blowers dry your property completely.  
In addition to full-service water damage restoration, we also offer mold removal. If you experience allergies, headaches, or dizziness, consider a mold inspection from one of our experts. When you need a water extraction or certified mold remediation company, look no further than 911 Restoration. For all your property's needs, call us today.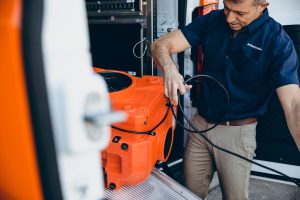 Fire Damage Cleanup in the Brentwood Area
Property restoration isn't just a job for us. At 911 Restoration, we believe in growing our community, and we understand your home or business is an important part of that. 
After a fire affects your home or commercial property, you need support, not more stress. In addition to smoke removal, deodorization, and soot cleanup, we'll help you create an inventory of damaged items. We also work with all insurance companies, and we'll speak with the adjuster on your behalf. We're experts in fire remediation as well as insurance paperwork, so we can help our customers through every step of restoration.
When you need fire damage restoration, call one of our agents to get immediate assistance.